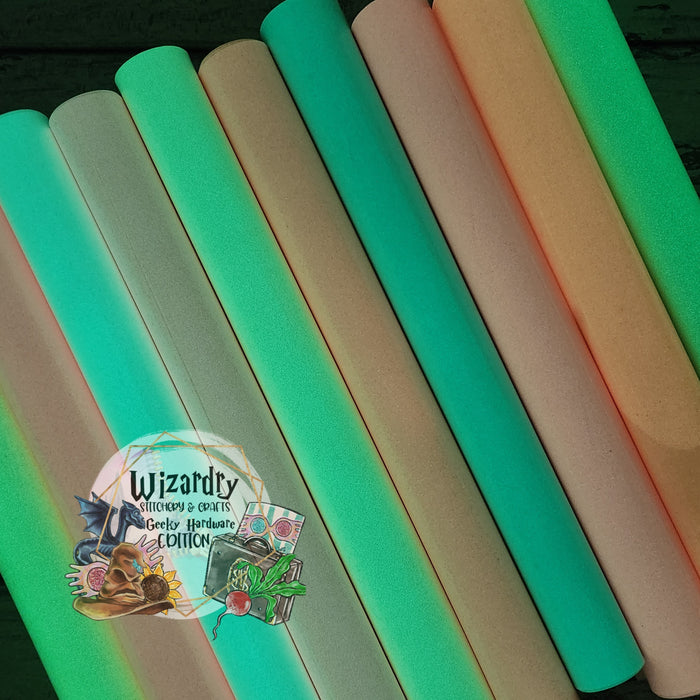 Lumos Smooth Glitter Vinyl Roll 18"x54" - Canvas Backing
Original price
$0.00
-
Original price
$0.00
Smooth Glitter Vinyl that Glows-in-the-Dark

Size:  18" x 54"
Soft Woven Backing OR Soft Canvas type Backing
Domestic Machine friendly (as always, the amount of layers will be determined by your specific machine)
Semi-Industrial & Industrial Machine friendly 

May require a walking foot or teflon foot
NOTE:  This vinyl may include a thin clear protective film.  Remove before sewing.
May show wrinkles when turning.
Thicknesses of vinyl may differ slightly by backing chosen.
Please select your vinyl color and backing from the menu.
**After making your selections the appropriate photo will show**  

All rolls are pre-cut.  Multiple rolls of the same color will not be continuous.
A warm iron with a pressing cloth can be used on the Backing side of this vinyl.  
Flaws:  Any mark less than the size of a quarter is not considered a flaw.
*Overall vinyl size is approximate.  Please allow up to a 1" difference in size listed above.
*Please remember that your screen resolution may alter the colors slightly.  
*Our vinyl is covered with an eco friendly coating during manufacturing and some rolls may have a chemical smell.  The suggested solution is unrolling the vinyl and allowing ventilation.